AZ LTAP provides technical training for local entities by request throughout Arizona. Local agencies determine what their training needs are then submit the On-Demand Request Form to AZ LTAP for the training(s). If you are seeking training for an individual rather than on behlaf of an agency, please contact us directly at [email protected].
How to Request On-Demand Training
1. Carefully review AZ LTAPs training policies and equipment requirements for virtual and in-person training. 
2. Download the fillable On-Demand Training Request form and send it to AZ LTAP at [email protected].
Review the training fees associated w/ your requested training 
All forms must be submitted to AZ LTAP at [email protected]
Incomplete forms will be returned to the agency. 
Training Policies
Please carefully review the following information. If you have any questions, please feel free to contact us!
Agencies are required to provide a 'facilitator' to assist our instructors during training. 
All participants must be transportation employees. There is a registration fee for any non-transportation employees which is due prior to the training. 
To cancel or reschedule a confirmed training, AZ LTAP requires a (2) week notice. Failure to meet this deadline may result in a cancellation fee. 
Cancellations, Reschedules, or Substitutions must be completed at least (2) business days before the training.
Employees more than 15 minutes late to the training will not be able to attend the class.
If a consultant/private agency employee is a "NO-SHOW", a fee of $100.00 will be assessed and invoiced to the consultant/private agency.
Please note that AZ LTAP requires social distancing during all trainings. Masks are to be worn by all non-vaccinated attendees and at the discretion of the LTAP instructor.
To determine whether your agency is a Contributing Member Agency click here. For descriptions of our courses, please search the course name in the search bar! 
See below for the list of the trainings offered and pricing information.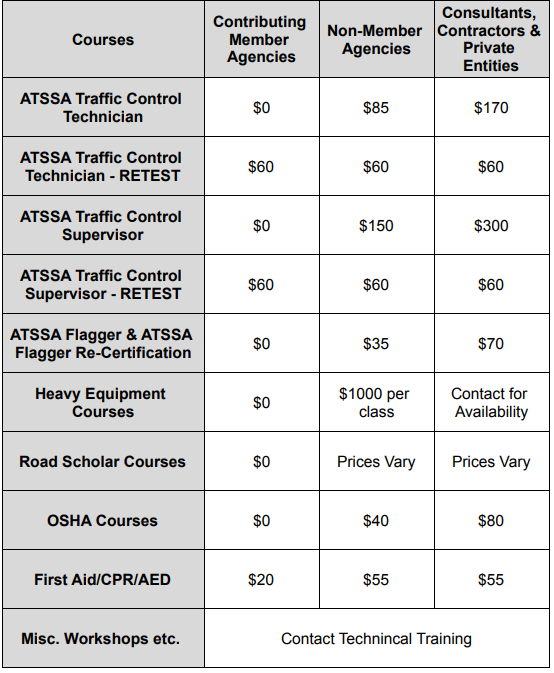 If you have any questions, please contact [email protected] or call Technical Training at 602.712.4050.